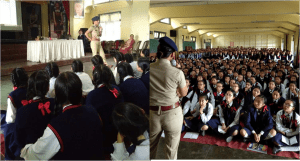 Under the guidance of the Director General of Police, Nagaland a new initiative has been undertaken by the Inspector General of Police (Range), Nagaland Sonia Singh IPS, called 'Police Ke Pathshala' to reach out to the student community and create awareness about policing. This project is envisioned to enlighten the students about the 'Rule of Law' and impress upon the paramount necessity of preserving Law and Order for development of the society.
The project emphasises on Schools and Educational Institutions as its main platform for sensitization on various topics/subjects pertaining to policing.  The initiative first  started on 31 August 2018 at Little Flower Hr. Sec School kohima where  more than 500 students attended the programme on the following issues.
Cyber Crime (Cyber stalking, Voyeurism, Defamaion, Revenge porn especially against women)
Community Policing
Crimes against women
Road safety
Self Defence
Criminal law ammedments
Women empowerment
Bridging gap between Public and Police
It is further envisaged to extend this initiative to all Higher Secondary Schools and Colleges in Nagaland whereby Police officers visit schools and give presentations, hold interactive sessions with the students, conduct Essay Competitions, give out printed materials as well as invite Teachers & Students to get firsthand experience of how the Police Department functions.
This project is necessitated as despite having enactment of good Laws for protection of citizens for Peace and Prosperity, it has remained largely in paper. It is felt that students are the future citizens and the noble ideals of the Laws must in ingrained in them for the effect of implementation.
IGP (Range) Smti. Sonia Singh also stated that the endeavour of this initiative it to make "Public – Police Relations" a key aspect of Policing, where the image of the police is built as the protector of their citizen's rights and in their service. Police Department looks forward to active participation of Staff and Students for better co-ordination and conducive Public – Police Relations.